I'm about to do something I have never done before. I'm going to link this post to a blog. I feel like such a big girl now. I hope it works!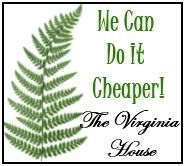 OK,so here is the
Pottery Barn Inspiration
. Although, if you check out my
earlier post when I made the oval plate
, you will see that I made it first (inspired by other blog surfing) and then found the PB one. When I found it I decided to complete the look. I went searching for a rectangle plate, and found a $9 one at Wal-Mart.
Here is my cheapper version:
If I had a great camara it would look just as good!
At PB they are sold out. But I think they were about $50.
Mine were $16 (with the plate holders) plus the chalkboard paint which I have used for other stuff and will use again for other fun projects in the future.